If you're a Professional Blogger, then blogging daily isn't a chore. The question is if you aren't a professional blogger then how do you get started? What do you write about? How often should you be blogging? Why should You blog?
Quick Internet Facts
There are almost 3 Billion internet users world wide
40% of the world population has an internet connection
200 Billion Emails sent out daily
3 Billion Google Searches Daily
800 Million Tweets Daily
6 Billion videos viewed online
100 Million Photos uploaded to Instagram Daily
1.3 Billion Facebook users
560 Million Google+ users
286 Million Twitter users
43 Million Pinterest Users
600,000 Computers sold daily
3 Million Smart Phones sold daily
600,000 Tablets sold daily
There are over 1 Billion Websites online
4 Million Blog Posts added to the internet daily
Why Should You Blog?
The above facts are why you should blog. With so many people connecting online, having a website is no longer an option. The problem is look at the last two facts above. 1.) There are over 1 Billion Websites online 2.) 4 Million Blog Posts added to the internet. That means that only .4% of websites are posting a blog on any given day.
A website without a blog is an online brochure. Your website is the foundation of your business. A blog is a way to keep people coming back. It provides rich content for your web visitors. It also provides you content to share with your connections on social media. You need to have peoples attention. Getting them on your website helps to get them focused on the services or products you provide.
SEO – A major benefit of blogging is SEO (Search Engine Optimization). Blogging is great for users but also for the search engines. If google scans your website and sees that there's nothing new for an extended period of time then you will have a tough time doing well in the search engines. Blog often and you're chances of being found online increases.
Getting Started with Blogging
Hopefully by now I've convinced you that blogging is vital to your business. So how do you get started? You need a domain name & hosting for your website. I don't recommend free options for anyone who is blogging for their business. You only get one shot at a first impression. Plus domain names and web hosting are cheap. So making the small investment makes sense.
Then you need your blogging platform. Fortunately WordPress is free software that provides you with a system that is great for blogging but also great for your main website. There are over 2,600 free themes on WordPress.org with over 107 Million downloads. There are also over 32,000 free plugins that extend the functionality of your website with over 700 Million downloads.
What Should You Blog about?
Blog about your business, your products, updates to your business, successful sales, testimonials from clients, sales, promotions, contests etc. Every business is unique so just focus on what your business is and how it helps people. If you get stuck then just google your type of business and see what others are blogging about. Don't just take their topics but just use their sites for inspiration on how to get started.
How Often Should You Blog?
Every business is different. Some people blog daily and others weekly. It all depends on the type of business you are in. You should create a Blogging Calendar. Blog every Monday, Wednesday & Saturday. Maybe that's too ambitious, but the idea is to schedule time to write articles for your business. Make it a habit. At first you will find it will take you forever to write an article. Over time it will get simpler.
Generally a good blog post should take between 1 to 2 hours to write. Some articles can take several days to write. It all depends on the amount of research and fact finding you need to do for your blog post.
After the Blog is Written
Simply writing a blog post doesn't mean people will read it. Remember there are 1 Billion websites online and that number is increasing every second. So you need to go on the hunt. Share your newly written article on all your social networks and email your database . The idea is to drive traffic to your website.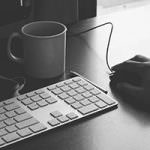 Remember, the more traffic your website gets, the higher the chance you will create a new customer!
So get your Cup of Coffee and start Blogging!
Share This On: